Saikothi Hydro Project
15 MW Saikothi Small Hydro Power Project – Himachal Pradesh
Saikothi Project is conceived as a run of the river scheme across Baira Nallah, a tributary of river Ravi, located at a distance of 70 kms from Chamba and 130 kms from Pathankot (Rail end) in Distt Chamba, Himachal Pradesh.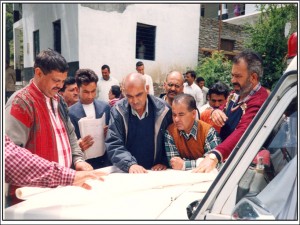 The Project envisages construction of 12 m high gated Barrage at the confluence of two Nallahs (Malin & Baira), an open Desilting Tank and 2.5 kms long, 3.5 m dia Horseshoe shaped Head Race Tunnel which will feed through 270 m long penstock, three generating units of 6 MW, 6 MW and 3 MW proposed to be installed in the surface Power House proposed at village Shalli, about 900 mtrs down from the main road. The power generated will be evacuated through 66 kV Transmission Line at nearest Substation at 4 kms and will further be evacuated through 132 kV integrated system at receiving Sub Station at 43 kms.
The Site Office has been set up and the site clearance activity is under progress. The preliminary construction work will begin immediately upon grant of approvals from the competent authorities – Govt. of Himachal Pradesh.